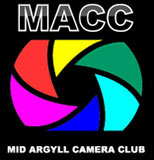 Mid Argyll Camera Club
Mid Argyll Camera Club
Your browser doesn't use stylesheets, or has turned off the use of our stylesheet. Although you won't get the page design we intend, you should still see all of the contents. Move the mouse over the items below for the menu links.
Copyright
The copyright of each of the images on this Mid Argyll Camera Club web site belongs to its author. For permission to use any image, please contact the photographer/author, which can be done through this web site. In most cases the photographer can provide much more detailed versions than the small sized images on this site.
---
t h e f i n e p r i n t
All photographs on this web site are copyright, and may not be copied without permission of their photographer (who may be contacted through this site).
We try to be legal, decent, honest and truthful, and to present fair opinions and accurate facts. Please email any corrections.
www.macc.ukphotographers.com/copyright.html
last modified 01/07/2008 by Dutyhog.
Search this web site for: