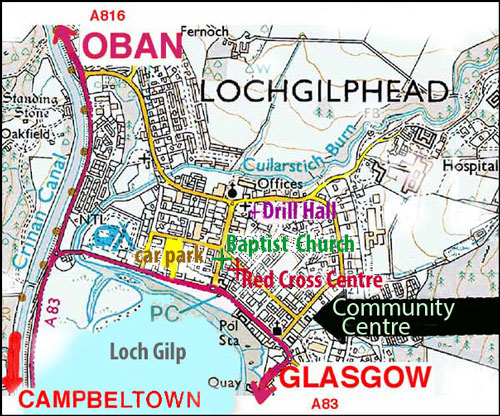 The Mid Argyll Camera Club covers a large, but thiny populated area in the west of Scotland - see small scale maps

We usually meet on Wednesdays at 7.00 - 9.30pm in the Community Education Centre, Manse Brae, Lochgilphead PA31 8QX (see map).

In emergencies, if you can't contact a club member directly during meetings, the front desk phone number is 01546 604788.
Parking is allowed in the streets (apart from yellow lines along part of Manse Brae) and in the Library car park next to the centre.

Also shown are other meeting places we may use:
Red Cross Centre (about half way along Union Street, next to the Empire Travel Lodge)
Baptist Church (corner of Union Street and Argyll Street, opposite the Stag Hotel)
Drill Hall (Manse Brae, opposite the Council Offices).
See these locations in a Google Map (zoom and scroll to see the Community Education Centre, Red Cross Centre etc) and get travel directions.


Equipment
The club has a Windows laptop computer, a scanner for paper and transparencies, a screen colour calibrator, a 35mm slide projector and a digital projector (1920 x 1200 pixels, with VGA, HDMI & DVI inputs plus JPEGs directly from a key drive). If you would like to project wirelessly from your Windows computer, download software from here.
Map produced from the Ordnance Survey Get-a-map service.
Image reproduced with kind permission of Ordnance Survey.


back to top
back to top