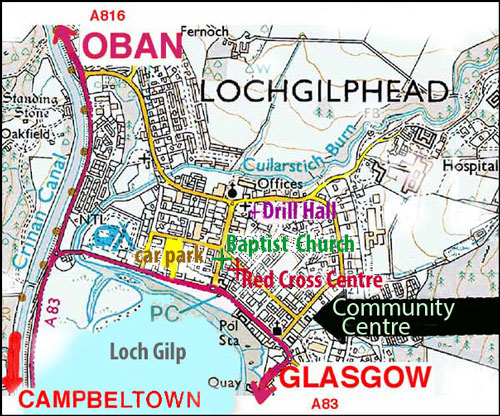 -
Map produced from the Ordnance Survey Get-a-map service.
Image reproduced with kind permission of Ordnance Survey.


We usually meet on Wednesdays at 7.00 - 9.30pm in the Community Education Centre, Manse Brae, Lochgilphead PA31 8QX (see map).

In emergencies, if you can't contact a club member directly during meetings, the front desk phone number is 01546 604788.
Parking is allowed in the streets (apart from yellow lines along part of Manse Brae) and in the Library car park next to the centre.

Also shown are other meeting places we may use:
Red Cross Centre (about half way along Union Street, next to the Empire Travel Lodge)
Baptist Church (corner of Union Street and Argyll Street, opposite the Stag Hotel)
Drill Hall (Manse Brae, opposite the Council Offices).
<!~~ Start of journey planner code ~~>
<!~~ End of journey planner code ~~>