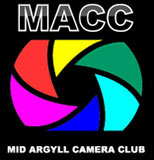 Mid Argyll Camera Club
Mid Argyll Camera Club
Your browser doesn't use stylesheets, or has turned off the use of our stylesheet. Although you won't get the page design we intend, you should still see all of the contents. Move the mouse over the items below for the menu links.
External competitions & exhibitions
Each year we make club and/or individual entries to external competitions & exhibitions, some in Scotland.
See the page of our digital photographs entered in external competitions and exhibitions.
One is the Frank Walton competition. This is for 15 digital slides entered by a club, from at least 5 different members with no more than 3 from each one. The competition is between Argyll & Bute clubs, usually Cowal, Helensburgh, Mid Argyll and Oban. See the pages of photographs that we entered.
We have entered the Photographic Alliance of Great Britain Great British Cup, and the Scottish Photographic Federation's portfolio competition and projected image championship.
Individual members also submit prints and digital images to competitions and exhibitions run by other organisations, such as those under the patronage of British Photographic Exhibitions (BPE) and the FIAP, and some seek their awards and distinctions.
---
All photographs on this web site are copyright, & may not be copied without permission of their photographer (who may be contacted through this site).
We try to be legal, decent, honest & truthful, & to present fair opinions and accurate facts. Please email any corrections.
We comply with the General Data Protection Regulations 2016-679: see our data protection policy
Search all MACC pages here for anything, eg your images and personal data:
www.macc.ukphotographers.com/external.html last modified 15/05/2018 by Dutyhog.