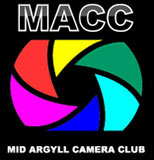 Mid Argyll Camera Club
Mid Argyll Camera Club
Your browser doesn't use stylesheets, or has turned off the use of our stylesheet. Although you won't get the page design we intend, you should still see all of the contents. Move the mouse over the items below for the menu links.
Programme of events 2008/09
Meetings usually last from 7.30 to 10pm, with a refreshment break.
2008 October to December
1 Oct
Opening Evening. Welcome to old & new members. The Dalriada Project.
8 Oct
Frank Walton Inter Club competition - protocol & a review of potential entries.
Please bring your best images (up to 10) - ideally JPEG files, size up to 1400 x 1050 pixels (on CD or USB flash drive if possible) - see rules.
Also bring entries for first competition; Special Subject - Set in Stone (see new rules)
15 Oct
An evening with Stan Miller
22 Oct
Libby Smith: Changing my Angle of View
29 Oct
Photoshop & Healthy Options - other image editing software that members use
5 Nov
First Competition, judged by Jim Kirkpatrick(Oban)
12 Nov
Blood Donors - No Meeting
19 Nov
Review of Frank Walton arrangements - catering & hospitality and our final choice of 15 images
26 Nov
Steve Cross: My Way with Digital
3 Dec
Frank Walton Inter Club Trophy Competition (Cowall, Helensburgh, MACC, Oban), Room 7
Judge - Malcolm Allan (Bishopbriggs)
10 Dec
Review & Social evening, including showing CD of Dingwall 2008 exhibition
2009 January to Summer
14 Jan
Members pictures on CD or USB flash drive (up to 15 images each)
Bring entries for second competition; Special Subject - Objets Trouve. See rules
21 Jan
bring photos to chose for putting on an exhibition in the centre (John MacTavish: Photo journalism in the Digital Age - postponed)
28 Jan
Members' Presentation (Gordon & Jimmy, on Making Prints)
4 Feb
Show by Douglas Reid, (bad weather postponed show of the SPF Portfolio images CD)
11 Feb
Second Competition, judged by Bobby Holden (Ardrishaig)
18 Feb
Blood Donors - No Meeting
25 Feb
Final selection & hanging of exhibition, 1st set of prints
Dalriada Project update & planning
Bring entries for final/annual competition; Special Subject (Harmony Trophy) - Atmospheric Weather. See rules
4 Mar
Member's presentation - Walter Ritchie
11 Mar
Show of the SPF Portfolio images (now on CD)
18 Mar
Annual/Final Competition, judged by David Fiddes
25 Mar
Annual General Meeting
Sat 11/18 Apr?
Informal dinner & prizegiving, at local hotel?
Summer
Outings, probably at short notice as good photographic opportunities arise, eg for project
You can also see what we did on our 2006/2007 programme and our 2007/2008 programme
---
t h e f i n e p r i n t
All photographs on this web site are copyright, and may not be copied without permission of their photographer (who may be contacted through this site).
We try to be legal, decent, honest and truthful, and to present fair opinions and accurate facts. Please email any corrections.
www.macc.ukphotographers.com/programme08-09.html
last modified 04/09/2009 by Dutyhog.
Search this web site for: