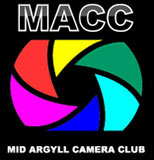 Mid Argyll Camera Club
Mid Argyll Camera Club
Your browser doesn't use stylesheets, or has turned off the use of our stylesheet. Although you won't get the page design we intend, you should still see all of the contents. Move the mouse over the items below for the menu links.
Programme of events 2009/10
Meetings usually last from 7.30 to 10pm, with a refreshment break.
2009 October to December
7 Oct

Welcome to old & new members.
Taped Lecture Introduction to Digital Imaging (60 minutes),
followed by question & answer session on basic photography.

14 Oct
Take Three - Members presentations:


Gordon Doughty - Landscape (with a wee camera),
Walter Ritchie - Greek Islands,
Mary Gillies - Macro Flowers & beasties

21 Oct

Review of potential entries for Frank Walton Inter Club competition:

Please bring your best images (up to 10) - ideally JPEG files, size up to 1400 x 1050 pixels (on CD or USB flash drive if possible) - see rules.
Work in pairs in computer room to improve and select 5 best from each for further selection next week.

Discuss possible exhibition themes for 2009-2010.



28 Oct
Review Walton Selections from previous week and select final 15 for Frank Walton competition


4 Nov
Taped lecture Chasing the Light - Landscape Photography


11 Nov

One hour challenge Computer room - Using image / images provided by a member work with partner to digitally improve image
view & discuss final images.
bring entries for first competition; Special Subject - All Creatures Great & Small (see new rules).

18 Nov
Blood Donors - No Meeting
25 Nov

Print/Slide Presentation by Tony Garman , of photographs by his mother, Pam Garman
Hand in images for - Guess Where? each member to take 6 digital images showing images around Lochgilphead & Dalriada area, taken from unusual angles or close up.

2 Dec
Guess Where? - Quiz Night.
view images & complete quiz sheets & select suitable images to be printed for print exhibition in centre with quiz sheets for members of the public.


Monday 7 Dec
Frank Walton Inter Club Trophy Competition (Cowall, Helensburgh, MACC, Oban), at Cowall Camera Club.
Judge - Charlie Moore


9 Dec
First Competition show, judged by Baxter Nisbet


16 Dec
Review & Social evening


2010 January to Summer
13 Jan

Taped lecture Creative Colour Part 1.
Bring entries for second competition; Special Subject - Reflections. See rules.
Bring 3 entries for abstract competition (27 Jan).

20 Jan
Presentation Workshop.
Presenting Prints & Images, eg for Competition

Mounting Prints (led by Ron Bowe)
Framing Digital Images Using Paintshop Pro (and Picassa?) for framing/formatting (led by Mary Gillies)
Formatting Digital Images Using Photoshop to format and frame digital images (led by Gordon Doughty) And screen calibration, if time

27Jan

Abstract Competition - In house voting.
Bring prints for Guess Where Exhibition.

3 Feb
Second Competition show, judged by Duncan McEwan (Bridge of Weir).


10 Feb
Scoltish Photographic Federation Portfolio, show of accepted digital images.


17 Feb
Blood Donors - No Meeting.
24 Feb

Practical evening - Portraits - Bring camera, tripod & any lights ( & laptop if you want to edit).
Bring entries for final/annual competition : Special Subject (Harmony Trophy) - Earth, Sea & Sky ie Landscape, Seascape, Skyscape. See rules.

3 Mar

Taped lecture Creative Colour Part 2 .
Bring up to 6 images showing small portion of object for 10 March Macro Images - Guess What.

10 Mar

Macro Photography Quiz - Guess What.
Bring maximum of 5 images for 17 March Members' Showcase - your best images, possibly to be considered for future competitions, internal and external.

17 Mar
24 Mar
Annual/Final Competition show, judged by Stan Miller (Carluke)


31 Mar
Informal dinner & prizegiving, at Kilmartin Hotel.


Saturday 15th May
outing for a photoshoot at Tarbert, Loch Fyne
You can also see what we did on our 2006/2007 programme , our 2007/2008 programme and our 2008/2009 programme
---
t h e f i n e p r i n t
All photographs on this web site are copyright, and may not be copied without permission of their photographer (who may be contacted through this site).
We try to be legal, decent, honest and truthful, and to present fair opinions and accurate facts. Please email any corrections.
www.macc.ukphotographers.com/programme09-10.html
last modified 24/08/2011 by Dutyhog.
Search this web site for: