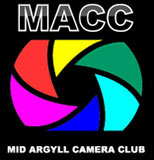 Mid Argyll Camera Club
Mid Argyll Camera Club
Your browser doesn't use stylesheets, or has turned off the use of our stylesheet. Although you won't get the page design we intend, you should still see all of the contents. Move the mouse over the items below for the menu links.
Programme of events 2014/15
Meetings are on Wednesdays, and usually last from 7.00 to 9.30pm, with a refreshment break. Most are in the Community Centre, but some may be elsewhere.
We don't all actively participate every evening. But if you want to learn new skills hands-on, or hear comments on your photos (which should be helpful and constructive), the list below suggests what to bring if you can.
. . .
kinds of events
.
Presentation, by visitors, by members, or on DVD
.
Members' show & tell with ideas exchange
.
Activity with other groups
.
Practical workshop - with laptops or with cameras
.
Photoshoot outing
.
Competition
.
Social evening, AGM
2014 September to December
date
.
events
what to bring if you can
24 Sept

Opening Evening: welcome to old & new members
Virtual tour of the clubs website
Best 4 - bring along 4 of your best images from the summer.

Bring up to 4 images on keydrive or CD if you can
1 Oct
Presentation A Printer's Progress
by Peter Rees FRPS, EFIAP, MPAGB, MACC founder member (see club history page ), now in Shrewsbury.
Darkroom and digital prints, with a variety of subject matter.




8 Oct
...

Presentation by Chris Davis
also see his other web site
I am now living In Scotland on the shores of Loch Fyne, a great place for landscape and seascape photography


15 Oct
.

Three short talks
a balanced mix of the essential technical stuff and the more fun creative stuff.

The Exposure Triangle - Kim
Composition - Richard
Resizing images for MACC Competitions - Richard or Gordon

then:

Questions and Answer Session - Kim, Richard & Jimmy
Some of the images accepted in the Dingwall 2013 exhibition

Bring entries for 1st competition.


hand in entries for first competition; colour prints, mono prints, digital images, & special subject competition Animals (any of the animal kingdom) (see rules)

Bring entries for 1st competition.
22 Oct
.
Blood donors - no meeting


29 Oct
.

Presentation: Landscapes by Bill Baillie (Slockavuillin), a professional photographer in Mid Argyll - wedding, commercial and landscape.


5 Nov
.

1st Competition show, judged by Stan Miller (Carluke)



12 Nov

Workshop: Presentation on Night & Low Light Photography by Richard Hunt-Smith
followed by
practical demonstrations. if weather permits


Please bring warm clothing, cameras & tripods as we will be going outside weather permitting.


19 Nov
.

Presentation by Chris Davis
also see his other web site
Chris is back by popular request to show more of his images


hand in entries for 2nd competition; colour prints, mono prints, digital images, & special subject competition Trees (see rules)

Bring entries for 2nd competition.
26 Nov
.

Presentation: Street photography by Willie Mather
Willie's portfolio of prints tell the story of his travels through the Far East and Europe with his camera, creating a stunning collection of compelling photographs. His work is a unique combination of street photography and painting. 


3 Dec
.
.

Member's evening

a small number of the more experienced members hold 15 minute "table talk" sessions on a particular subject - then every 15 minutes the members move round so everyone gets to visit each of the tables. 

Richard - Photoshop basics - resizing images and cropping, levelling horizons
Gordon - Photoshop -  layers
Kim - moving from Auto - Aperture, ISO and shutter speed
Walter - Photoshop - tidying up your images and removing dust spots
Ron - mounting your images in preparation for competitions
Verina - portraits

... and others to be confirmed.


10 Dec
.

2nd Competition show, judged by Robert Fulton EFIAP MPAGB BPE5* (Cumbernauld, Paisley Colour Camera Club).



17 Dec
.
Christmas Fun Night


Fun competitions
Small buffet

Bring a SMALL plate of savoury or sweet food
2015 January to Summer
date
.
events
what to bring if you can
7 Jan
Timelapse/AV by members.

Hand in entries for Harmony special subject competition Walls, and things on them (see rules)
Bring set of 3 entries for Harmony competition.

14 Jan
.

Members' evening

Show Dingwall 204 mono images


21 Jan
.

Presentation: wildlife photography by Sandra Price

Sandra lives and works on the edge of the Cowal peninsula. She has photographed a variety of wildlife subjects across the UK over a number of years.


28 Jan
.
.

Members' presentations

Helen Bibby - Glensanda Super Quarry
Christine MacIntyre – subject to be confirmed.
Richard Hunt-Smith– Street Photography (in preparation for the next competition)
perhaps one more.



4 Feb
.

Harmony competition show, judged by Neil Barlow (Cowal)
Suject: Walls, and things on them


11 Feb
.
.

Presentation: Event Photography by Gordon Baird (East Dunbartonshire)

I have been taking photographs for over 20 years and am a Licentiate of the Royal Photographic Society. I take all kinds of subjects but particularly like photographing Events where you tend to be able to take hundreds of pictures in the one day.


18 Feb
.
.


My Favourite Photographer
Members to reecreate photos by their favourite photographers

Each member who wishes to take part submits two or three images by their favourite photographer and some notes that they will spend a minute talking about (perhaps a brief biography of the photographer), supplemented by input and discussion from the group?

hand in entries for 3rd competition; colour prints, mono prints, digital images, & special subject competition Street Photography

2 or 3 images

competitionentries
25 Feb
.
Blood donors - no meeting
perhaps a committee meeting


<!
4 Mar
.
.


Then and Now
Members to present a series of photographs showing their mistakes and improvements as they have developed as a photographer

Members who wish to participate to bring 2 or 3 photos and talk for a couple of minutes as to what they learned, what changes they made etc. followed by some group discussion on each set of images? As Kim mentioned the shots can show an improvement in technique rather than having to be taken in exactly the same location.



Bring 2 or 3 pairs of images
10 Mar
Frank Walton Inter-club Trophy Competition
(Campbeltown, Cowal, Helensburgh, MACC, Oban)


This meeting will be held in Helensburgh.

judged by Clive Watkins (Ayrshire)



11 Mar
.

Annual/Final competition show, judged by Dun can McEwan (Bridge of Weir)

Duncan McEwan lectured on "Nature's Way" on 5th March 1980, and will be back again 25 years later.

18 Mar
.

Annual General Meeting


Return trophies for engraving
25 Mar
.

Prize giving and buffet dinner (Stag Hotel)


SATURDAY 23rd May
.
Outing to Kenmore (Perthshire) via Killin and Fortingal. Kick off 9am from Stag car park. No need to say whether you are coming or not, just turn up.
You can also see what we did in 2006/2007, 2007/2008, 2008/2009, 2009/2010, 2010/2011, 2011/2012, 2012/2013 and 2013/2014.
---
All photographs on this web site are copyright, & may not be copied without permission of their photographer (who may be contacted through this site).

We try to be legal, decent, honest & truthful, & to present fair opinions and accurate facts. Please email any corrections.

http://www.macc.ukphotographers.com/programme.html last modified 18-03-15 by Dutyhog.